The wonderful and discreet Villa Imperial in centre of Zurich is located 10 minutes' walk from Lake Zurich. Rent luxury villa Zurich with a garden for a short or long term whether you are on a business trip, come to a conference or need an accommodation for yourself or your family for the duration of medical treatment.
If you do not want to stay in a public hotel, Villa Imperial Zurich will be the perfect choice for you – it offers full privacy: nobody disturbs you, it even meets the requirements of celebrities and VIP persons.
The villa is a unique and exclusive venue for wedding or birthday parties and business events, eg. product launch, partner party.
The villa has a beautiful and large garden and a covered parking space for 2 cars. Inside the 4 level building there are 5 bedrooms, 5 bathrooms, a dining room, living room and a private apartment with a separate bathroom for our in-house staff.
Extras: an orangery and a covered grill terrace in and in addition to the exceptional outdoor area for intimate lounging. Inside the building, there is a cigar room, wine-tresor and home cinema.
You can rent the villa with or without in-house staff. We also offer you bespoke services: eg. party organising, breakfast, catering, concierge services, limousine transfer.
Villa Imperial has been built in the center of Wollishofen in 1895. It has been fully renovated from 2010 till to 2012 and became a really specific jewel. Because of the perfect position of the property, you can reach every line of public transportation in 3 minutes' walk. The area is supported by lots of necessary services (for example: post, restaurants, banks, food store etc).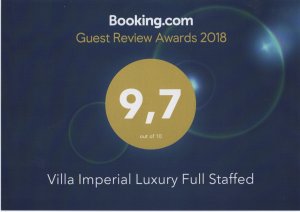 Enjoy the tranquility, luxury, and services offered by Villa Imperial and our in-house Villa care taker! Book your stay in our luxury villa Zurich with 6* services for your family, friends or your business partners!
It impresses with its the 19th-century style and the many special details, such as the elaborate original parquet floors, the restored stucco ceilings as well as the specially made silk wallpaper. Also the redesign of the park which underlines the peculiarity of the property was completed in Summer 2013. The classic building combines a stylish atmosphere and the latest technical equipments (including high speed wifi, a monitoring and alarm system, in rooms climate control …)